If you need to cancel a shipment – whether it's because your customer changed their mind or you made an error in processing – you can do so right from within your LɅBL account. Postage misprints and unused mail pieces with LɅBL addressed.
In order to void a label, a refund request must be submitted. Please follow the instructions below. These instructions are specific for USPS shipments, scroll to the bottom of this page to view other carrier instructions.
From the shipments page, select the label you need to void and click "Void".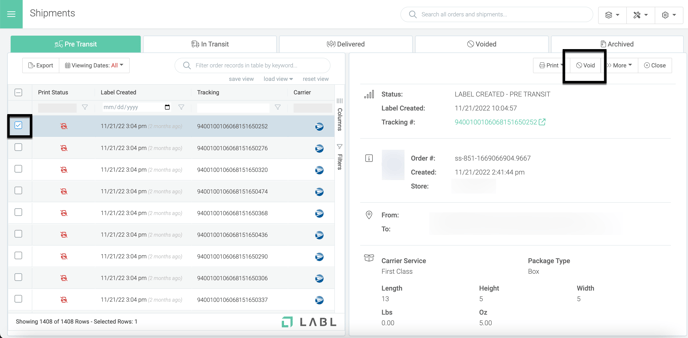 Read the instructions before continuing, when you are sure you want to cancel a shipment click "Continue with Void".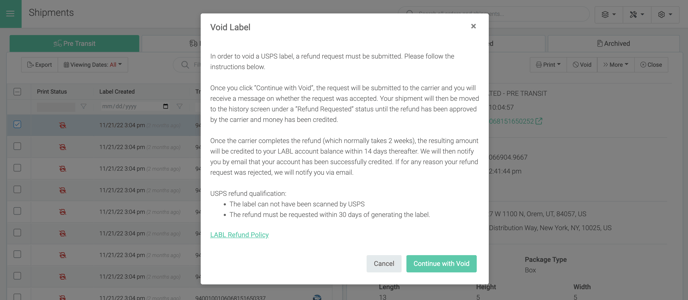 Once you click "Continue with Void", the request will be submitted to the carrier and you will receive a message on whether the request was accepted. Your shipment will then be moved to the shipments page under the voided tab. The shipment status will have a refund requested status until the refund has been approved by the carrier and the money has been credited.
Once the carrier completes the refund (which normally takes 2 weeks), the resulting amount will be credited to your LABL meter within 14 days. You can view any credits back to your shipping meter on the analytics page under transaction history.
USPS Refund Qualification:
The label must be unscanned by USPS
The refund must be requested within 30 days of generating the label.

Information About Canceling Labels
USPS:

In order to cancel a USPS label from LABL, it must have been purchased within the last 30 days and never scanned by the USPS.

Canceling a USPS label will send an automatic refund request to LABL. When approved, your account balance will be refunded for the postage amount paid. LABL takes 14 to 20 business days to process refunds.

UPS:

UPS does not support canceling of UPS Mail Innovations shipments. If you decide not to ship the package, simply throw away the UPS Mail Innovations label. Labels that will not be used should be voided within 24 hours of processing the shipment.

FedEx:

FedEx has specific requirements for canceling FedEx Ground or FedEx Home Delivery labels from within LABL. These shipments must be canceled on or before the Ship Date in order for the cancellation request to be successful. With FedEx Multi-box shipping, when one shipment needs to be canceled within a group of shipments the entire group needs to be canceled in order to get a refund for that shipment.

DHL:

DHL Express does not support canceling shipment labels. Please Contact LABL support if you need to cancel a DHL Express Shipment.
Warning: The filing of false, fictitious, or fraudulent refund requests for the return of U.S. postage is punishable under the criminal laws of the United States. 18 U.S.C. §1001