Learn how to manually start an order import from an integrated store. You can revert the date range and manually run the import process to check for any missing orders or bring in orders that might have been deleted in LɅBL.
Note: LɅBL automatically runs imports throughout the day and usually a manual start is not necessary. If you do have orders missing, or deleted orders accidentally and need to re-import them, this guide will walk you through that process.
From the order management page click the refresh icon on the top right of your screen. A message will pop up that says refresh stores where a menu will drop down.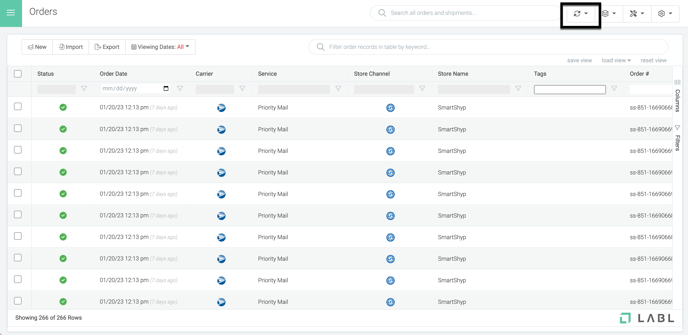 On the drop-down menu, you will see a list of stores that you have connected to LɅBL. It will also display the last time orders were successfully imported. Here you can manually run an import, change the date range you want to check for orders, or click "Run Import for All Stores" to refresh everything at the same time.

Click the calendar button to bring up an option to revert the last imported date. Select the date you would like to query for orders and click "OK".

Click the calendar again to bring up the calendar view to make it easier to select the date.
Select your date and click "OK".
Tip: Select a date at least 1-2 days before the date range you would like to revert to. This will ensure no orders are missed.
Now that the Date has been reverted go back to the refresh stores drop-down and click "Refresh".
A message will display showing you the import has been started. Depending on how many orders you have, it could take a minute to update.
Note: You can also revert the import date and refresh your stores on the store's page found in settings. This guide shows you how to quickly do it from the order management screen so you do not have to navigate to a different page.