This guide provides a step-by-step walkthrough for shipping your initial order using LABL. It covers the fundamental steps involved in obtaining a shipping rate and generating a shipment.
Step 1. Navigate from the dashboard to the
orders page
through the left-side navigation menu or by selecting "Create Your First Order Now."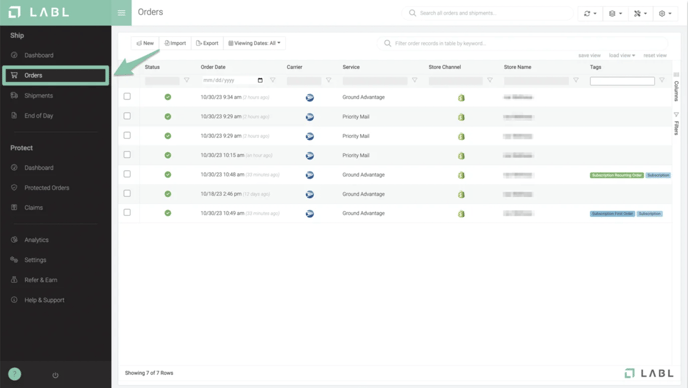 Step 2. Create a manual order by clicking "New".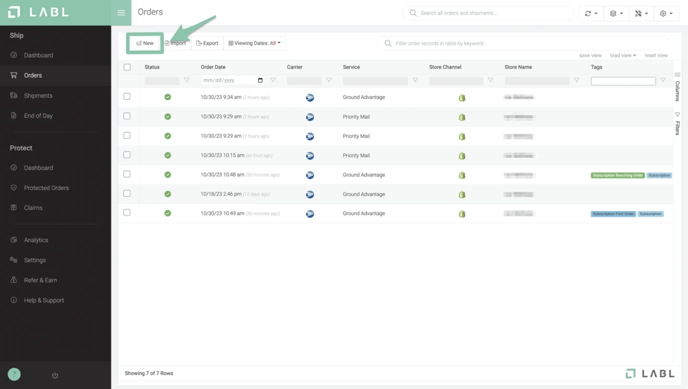 Step 3. The screen will enlarge, allowing you to input the necessary shipment details before obtaining a shipping rate. The order will remain in a not-ready status until all the required shipment details are provided. After entering these details, the shipment status will display a green "Create Label" box that will indicate a ready status.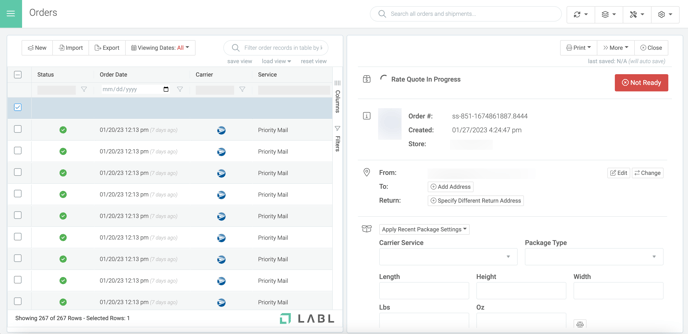 Step 4. Select your preferred carrier service and package type, and add any additional options- like shipping insurance - or added services like a signature required.
Required Fields: From address, to address, dimensions, and weight are required fields before a shipping rate will display. Some flat rate options do not require dimensions to be entered.
You can edit your ship-from, ship-to, or return address if needed.
Step 5. When you are ready to create a label for your order, click the green "Create Label" button to review the label summary then click the blue "Create Label" button to finalize your order.
Step 6. Once your label is successfully processed, click "Print Labels Now" to print out your shipping label.
Other Options: You can choose to add additional Package Protection, order items, order notes, internal notes, tags, and a batch name to the shipment.
If you have any questions or need assistance, please email support@lablpx.com and our Support Team will be happy to assist you.